Pakistan is full of beautiful and mesmerizing places and Lahore alone has a number of beautiful places to visit. Someone once said that 'If you haven't seen Lahore, you haven't been born yet' this is the most truthful statement. This beautiful city is famous for its centuries-old historical culture and mesmerizing spots. We have compiled a list of the top ten best places to visit in Lahore.
The city of gardens is also full of rich heritage and major cultural centers because of the history of The Mughal Empire as they left their distinct marks in the city. Lahore was the ruling seat of the great Mughal Empire that's why there is a number of architectural marvels to increase its historic charm.
You will find many religious sites, ancient monuments, warm welcoming, and the most hospitable people here. Lahore is a safe city for local as well as for International tourists with almost every world-class facility, from top-class luxurious hotels to Uber, Careem services.
Without further delay, let's get to the list.
Lahore Fort – Top Ten Best Places to Visit in Lahore
The Lahore Fort also known as the Shahi Qila is a wonderful landmark of the city. You will find many great pieces of art and architecture of the Mughal Era.
This must-visit historical palace was the capital of the Mughal Emporer Akbar in the year 1580 and was built in the 11th century by the legendary Mahmood of Ghazni.
If you visit this site you will witness the Royal palaces, fountains, gardens, halls, mosques, and other such masterpieces of art inside the Lahore Fort.
Sheesh, Mahal aka Palace of Mirrors is the most visited palace inside the Lahore Fort.
Location: Lahore Fort, Fort Road, Lahore.
Badshahi Mosque
Badshahi Mosque is one of the largest and best-known mosques in Lahore as well as around the world. We rank it second on the list of the top ten places to visit in Lahore.
In 1674 under the rule of Emperor Aurangzeb, this mosque was built. This is the second-largest mosque in Asia and fifth the in world.
Without a doubt, this imperial looking mosque is the major tourist attraction that can hold 100,000 people in its courtyard.
This is situated opposite the Lahore Fort and near the tomb of our national poet Allama Muhammad Iqbal.
This red stone building is an example of the great Mughal Era's architecture. The wall art and beautiful tile work carry a long history of the Mughal Empire.
An individual section on the premises also houses the Islamic relics belonging to the Holy Prophet (PBUH) and his family.
You can sit inside the mosque for hours just admiring the beauty and grandeur of the Mughal era.
Location: West of Lahore Fort, Fort Road, Lahore.
Shalimar Gardens
Lahore is famous as the city of gardens and the Shalimar garden is the main reason for this title. Built in 1641 in the Mughal era of Emperor Shah Jahan.
This place is spread over eighty acres and is the true reflection of architecture with waterfalls, ponds, and full of greenery. There is also a walk and jogging path.
This is a family entertainment spot. In 1981 Shalimar Gardens is recognized as UNESCO World Heritage. The beauty and history of the spot enables it to be on the list of top ten places to visit in Lahore.
Location: Near Grand Trunk Road, Lahore
Wazir Khan Mosque – Top Ten Best Places to Visit in Lahore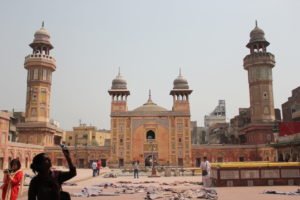 The Wazir Khan Mosque is located in the older part of the city near Dehli Gate. This religious site is quite famous for its decorated tile work.
The beautiful Persian tile work and floral motifs are equally beautiful and their entrance and interior.
It was named after the governor of Lahore who actually had built this masterpiece in 1634 under the rule of Emperor Shah Jahan.
It may look like this masterpiece took centuries to build but it only took seven years to complete.
This place is very famous among photographers and a real treat to the eyes of thousands of tourists.
Location: Wazir Khan Mosque, Lahore
Minar-e-Pakistan
Minar-e-Pakistan is among one of the top ten best places to visit in Lahore, situated near the Badshahi Mosque.
This seventy meters tall Minar-e-Pakistan is in the middle of the famous Iqbal park and built-in year 1960.
This place is the true and perfect representation of the history of Pakistan. This is the same place where the resolution of Pakistan (for the independent country) was passed on March 23, 1940.
From the top of Minar-e-Pakistan, there is a mesmerizing view of the beautiful city of Lahore.
You will find a number of tourists enjoying the greenery of the park and witnessing this beautiful landmark of Lahore.
Location: Minar-e-Pakistan, Circular Road, Lahore
Eiffel Tower Replica
You must have heard about the symbol of Love called Eiffel Tower Paris but we have our own Eiffel Tower in Bahria Town, Lahore.
Though this is not the real Eiffel Tower it is the 3rd largest copy of the Eiffel tower. This is amongst one of the best and top picnic spots in Lahore and an attraction for tourists.
We recommend you visit this beautiful place on a clear day so you can witness the beautiful views of Bahria town and the southwest side of Lahore.
You will find the Eiffel coffee shop and fine dining restaurant on the first and second floor on the replica of this Eiffel tower.
Location: Bahria Town, Lahore
Fort Food Street Lahore -Top Ten Best Places to Visit in Lahore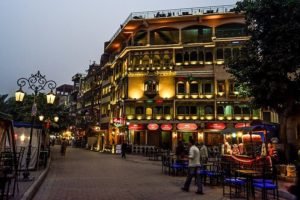 There are many restaurants and best places to eat in Lahore but Fort Food Street is one of the local's favorites and best spots to eat.
This food street offers the best street food from Pani Poori, Bhel poori to gulab jamuns. You will find a variety of mouthwatering food at affordable prices.
If you love street food, then you must visit this place with your family and friends.
It is worth experiencing, you will fall in love with the view, smell, and taste of the delicious dishes.
Location: Food Street, Gawalmandi, Lahore
Lahore Museum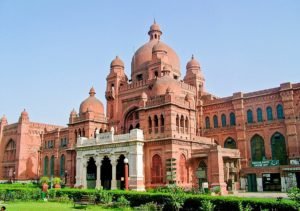 Lahore Museum is the must-visit place in Lahore and occupied space in our list of top ten best places to visit in Lahore.
This museum is the best place to insight into the historical perspective and to learn about the fascinating history of this beautiful country.
This is a highly regarded museum founded in 18 century and has the artifacts of different civilizations like Mohenjo-Daro and Harappa.
Lahore museum is the largest and one of the most visited museums in Pakistan. It has more than 20 gallery exhibits artwork, paintings, manuscripts, honor medals, currency stamps, and many more things of the war era.
We recommend you to must visit this fascinating place.
Location:
Also Read: Top Ten Best Places to Visit in Islamabad – Investinpak
Wagah Border
If you visit Lahore and never witnessed the "ceremony of lowering flags" at the Wagah border then your trip would not be complete.
This place is the "Berlin wall of Asia" which marks the border crossing between Pakistan and India.
Since 1959 every evening the parade and flag-lowering ceremony is performed by both sides of the Army troops.
This ceremony is considered one of the best attractions, the cheering crowd, and the elaborate drill on both sides makes it worth visiting this place.
Parade timings in summers start at 5:15 pm and in winter it starts at sharp 4:15 pm and lasts for 45 minutes. We suggest you visit the place one hour before the parade starts.
This place is a little bit out of town but we recommend you to visit and experience  the incredible power of patriotism before leaving Lahore
Location: Wagah Border, Lahore
Anarkali Bazar – Top Ten Best Places to Visit in Lahore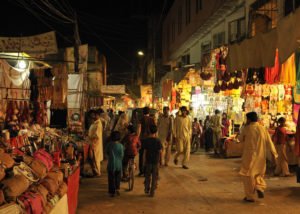 This is the must-visit place in Lahore because without visiting Anarkali Bazar your trip to Lahore will be incomplete.
Do you know why this bazaar is famous for the name Anarkali?
Let me share with you some information from history. Anarkali bazaar is named after the girl who was accused by the Mughal Emperor Akbar of having a love affair with his son Prince Salim in 1599.
This city has plenty of bazaars and markets but from all Anarkali is the must place to visit. There are two parts of this bazaar one is Old Anarkali and the other is famous as New Anarkali.
Old Anarkali is famous for shopping as people visit this place to buy things. You will find a variety of clothes, shoes, and jewelry here.
Whereas New Anarkali has individual markets bazaars like Bano Bazaar, Pan Gali, etc.
This is one of the top ten best places to visit in Lahore and to buy anything from embroidered dresses to leather and silk wears at less price.
Location: Anarkali Bazaar, Mall Road, Lahore.
More About Pakistan
Top Ten Schools in Lahore – Genuine List
Business Ideas in Pakistan 2021: Complete Roadmap
Tourism in Pakistan – The World Appreciates
PayPal account in Pakistan – Definitive Guide to make and verify PayPal account
Top Ten Restaurants in Lahore – Let the taste prevail