You might have read a lot about the lush green mountain ranges in Pakistan. There is a whole lot of content there on the internet. The famous deserts of Pakistan, not so well covered. These are some of the most fascinating places that one could visit in the country. I have arranged a list of top 5 most famous deserts of Pakistan.
Some quick facts first
Deserts in Pakistan cover around 10% of the total landmass
Most of these deserts are subtropical sand based
Some of the rarest habitat are found in these deserts
Incredible historical sites and oases are abundant
Here is a quick 5 Famous Deserts of Pakistan:
| Name | | Covered Area | Location | Highest Temperature |
| --- | --- | --- | --- | --- |
| 1. Thar Desert | | 30,000 km sq | Sindh Province, Pakistan | 45-50°C |
| 2. Kharan Desert | | 20,000 km sq | Washuk Tehsil, Balochistan | 42°C |
| 3. Thal Desert | | 20000 km sq | Jhelum city, Punjab | 44°C |
| 4. Cholistan Desert | | 25,800 km sq | Bahawalpur, Punjab | 50°C |
| 5. Katpana Desert (Cold Desert) | | 9.4 km sq | District Skardu, Gilgit−Baltistan | 27 °C (81 °F) |
Let's go deep into the details of these scenic deserts of Pakistan
1- Thar Desert – Sindh
Also known as the Great Indian Desert, THAR marks its place among the largest deserts on the planet. The reason it is also given the name is that 85% of the landmass is located in India. The rest of 15% comes under Pakistan's borders. Combining the two, the desert covers a quarter of a million square kilometers.
It covers a total area of 30,000 km2 (12,000 sq mi) in the Pakistan's Sindh province. This sandy subtropical desert is a home to 30 million people. Most of these people are nomads and make a living of agriculture. This many people is what makes THAR a 'Friendly Desert'. That's just the number living in the Pakistan's side of it. Facts say that THAR is one of the most populated deserts in the world.
We spoke about the rarest animal species on these deserts of Pakistan, to name a few, Blackbuck, Chinkara, Bishnois, red fox peacock, peafowl, eagles, harriers, falcons, buzzards, kestrel and vultures are one of those. One could also spot migratory birds in different seasons, wandering and gazing around.
2- Kharan Desert –  Balochistan – Famous Deserts of Pakistan
Kharan Desert lies among the vast swatches of Balochistan having 20 thousand square kilometer of covered area. The desert is inhabited with just 0.23 million people and is known for its extreme arid climate. The fact that it has such a huge landmass with such low population, makes it one of the least populated deserts of Pakistan and around the world.
It is fascinating to see a desert that big with such little population. This may not be the Kharan Desert only, the whole of Balochistan has a very similar configuration. There are huge landmasses wanly populated.
The north, east and west part of this famous desert is covered with mountains. These mountains are about 3000 meters in length. The low population and a vast deserted landmass made it a good site for nuclear testing. A nuclear facility was thus built in the Kharan Desert, CHAGHI II specifically,  in the year 1998.
3- THAL Desert – Punjab
Another very famous desert of Pakistan lying in the district Jehlum, west Punjab. THAL is incredibly rich in natural features spanning for upto 305 kilometers in length from north to south. Here in THAL, mesmerizing views of sand dunes and sand cyclones are seen very often. This desert offers a totally different view in February and March when the local farmers use the land for  hara choliyan (green chickpeas) cultivation. Lush green fields give absolutely no vibe of a desert during this period.
The ability to cultivate green chickpeas and other related agricultural items make THAL one of the most populated deserts of Pakistan. Thousands of farmers are living of the agriculture business on this landmass. The naked emptiness present itself once the green chickpeas are harvested and the roots dry off.
THAL canal is one of the noteworthy projects that can be seen in the desert. The purpose of this canal is to provide water resource to the farmers in and around the THLA desert.
Temperature in THAL desert can range from 0°C to 44°C. June is the hottest month. Average rainfall is 277mm per year.
THAL is also a famous destination for rally racing.
4- Cholistan Desert – Bahawalpur – Punjab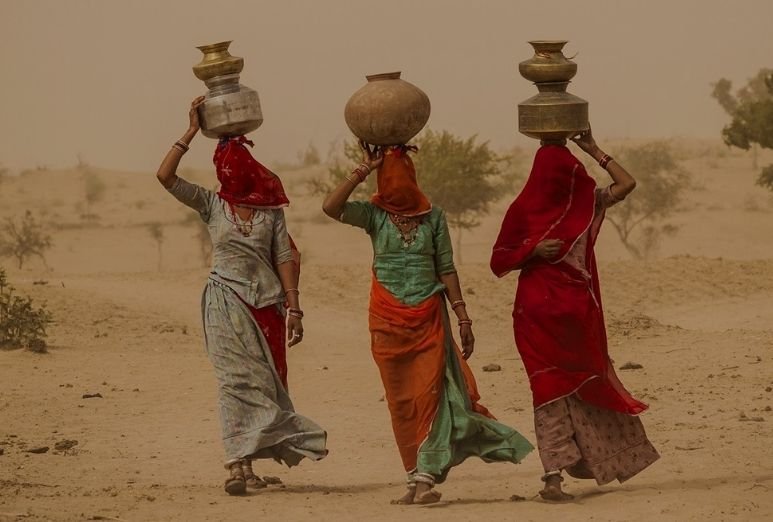 Cholistan is one of the most famous deserts of Pakistan. It is also known as Rohi. The place is largely populated by semi-nomads who tend to move around in search of food and shelter from harsh climate. Cholistan, or shall we say Rohi is most commonly knowns for homemade crafts such as wool and cotton products. The inhabitats are also known for delivering luxurious hand woven blankets and rugs, jewelry items handmade from silver and gold.
Ever heard of Cholistani Khussa? Yeah, that's the specialty. The cottage industry works as the backbone of this area's economic activities. The livestock indstry is another way of earning for the nomads. The breed various animals to be sold or milked.
A fascinating thing about the Cholistan Desert is that it is a home to some of the worlds rarest and most precious animals. To name a few, we have, cobra, Desert wolf(rare), Forest cat, Jackal, Indian mongoose, Caracal cat, Nilgai antelope, Chinkara gazelle,Black vulture, Blackbuck, Saker falcon, Red fox, Peregrine falcon, Saw viper and Russell's viper. Houbara bustard is classified as an incredibly rare species. It is found in Cholistan desert in the winters.
When it comes to history, Rohi is one of the richest deserts of Pakistan. Derawar fort, standing tall to date is an indication of historical significance of the Cholistan Desert. It is also home to Pakistan's most protected rain forest, the Dodhla Forest.
5- Katpana Desert – (Cold Desert) – Skardu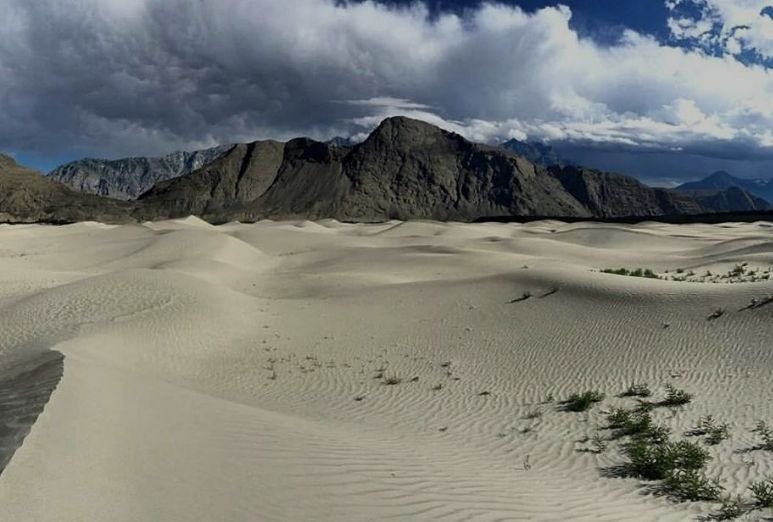 Last but not the least on the list of top 5 deserts of Pakistan is Katpana Desert, also known as Katpana Cold Desert. It is a high-altitude desert located near Skardu, in the northern part of Pakistan. It is one of the few cold deserts in the world, known for its unique and extreme weather conditions. The desert is situated at an altitude of around 2,226 meters above sea level and covers an area of approximately 1,000 square kilometers.
One of the most striking features of the Katpana Desert is its unique landscapes, with large sand dunes, rocky outcrops, and high-altitude lakes. The desert is also home to a wide variety of flora and fauna, including various species of plants and animals that are adapted to the harsh desert environment.
The Katpana Desert is a popular tourist destination, attracting visitors from all over the world who are interested in experiencing the beauty and serenity of this remote and little-explored region. Visitors can enjoy activities such as sandboarding, trekking, and exploring the diverse landscapes of the desert.
Overall, the Katpana Desert is an important natural and cultural landmark in Pakistan, and its unique features and attractions make it a must-visit destination for anyone interested in exploring the beauty and diversity of this fascinating country.
If you liked what you read, do go through some of the other amazing articles below.