Pakistan has world's fifth-largest population (212.2 million or 21 crores) in the world. A consumer's market this big is an opportunity for all sorts of businesses. Numerous studies show that several markets within Pakistan are still untapped. These untapped markets present a sublime business opportunity. Covering all of the business ideas in Pakistan within this blog post was not an easy task. After working for several days, I have this complete list of small to medium business ideas.
The best thing about this list of business ideas in Pakistan is that I have divided it into several slabs. For example, business ideas according to budget, education, age, expertise and according to interest. You won't find a more comprehensive list anywhere else.
Just click on the following tabs and you will find business ideas that suit your budget and expertise.
Business ideas from 1 to 5 lakh contain all businesses that can be started within this range. I have invested a lot of time in this section because huge number of people have a budget in this range. Bear in mind that I am going to describe the requirements of each business in detail and these details will contain the major slabs that I mentioned earlier.
Let's start with the most common business ideas.
Business Ideas in Pakistan from 1 lakh to 5 lakh rupees
1- Homemade Food Delivery Business
This is a business where you can cook one or more dishes at home and can deliver to the customer's doorstep. The dishes could be desi food, special cakes, kinds of pasta or fast food. The choice of dishes may be defined by your expertise and the budget you have.
i- If you have about 5 lacks in your pocket, you can deliver a different yet better Pizzas or Burgers via one of the food delivery networks. For example, Foodpanda, EatOye, Careem or Bikea. De Macho's Pizza works on this model. They might start a dine-in soon but the current profits are coming from Foodpanda.
ii- If you have a budget of 1 lakh in your pocket, you can start with one special dish. For example, Sarang Sindhi Cuisine in F-11 Markaz Islamabad started their business via special Sindhi biryani at home.  The owner is a lady and she runs a pretty good setup in F-11 Markaz now.
iii- You will find several housewives selling these fantastic cupcakes and event cakes online. The business could be started by creating a Facebook page and displaying some of your creations. Just keep in mind that if you do not like Foodpanda, you will need someone from the family or from the neighborhood to deliver your dishes to the customers.
Requirements: You will need the budget, yourself or someone who can cook, a kitchen.
Education: No education required.
Expertise Level: Entry level, the dishes must taste very good.
Time: Part-time in most dishes.
Area: Nearby your kitchen. For example, an area of 20km around your home kitchen.
2- Local Food Stalls
If you are thinking that a huge number of stalls are already there on the streets, you are right. However, we at Investinpak are suggesting our readers be innovative. Let's see how innovative you can get.
i- I found this small local food stall business idea online and I think it is pretty much untapped in Pakistan. This is, by all means, innovative and looks pretty tasty. Everyone is selling potato chips, you just need to be innovative.
More business ideas in Pakistan related to Food Stalls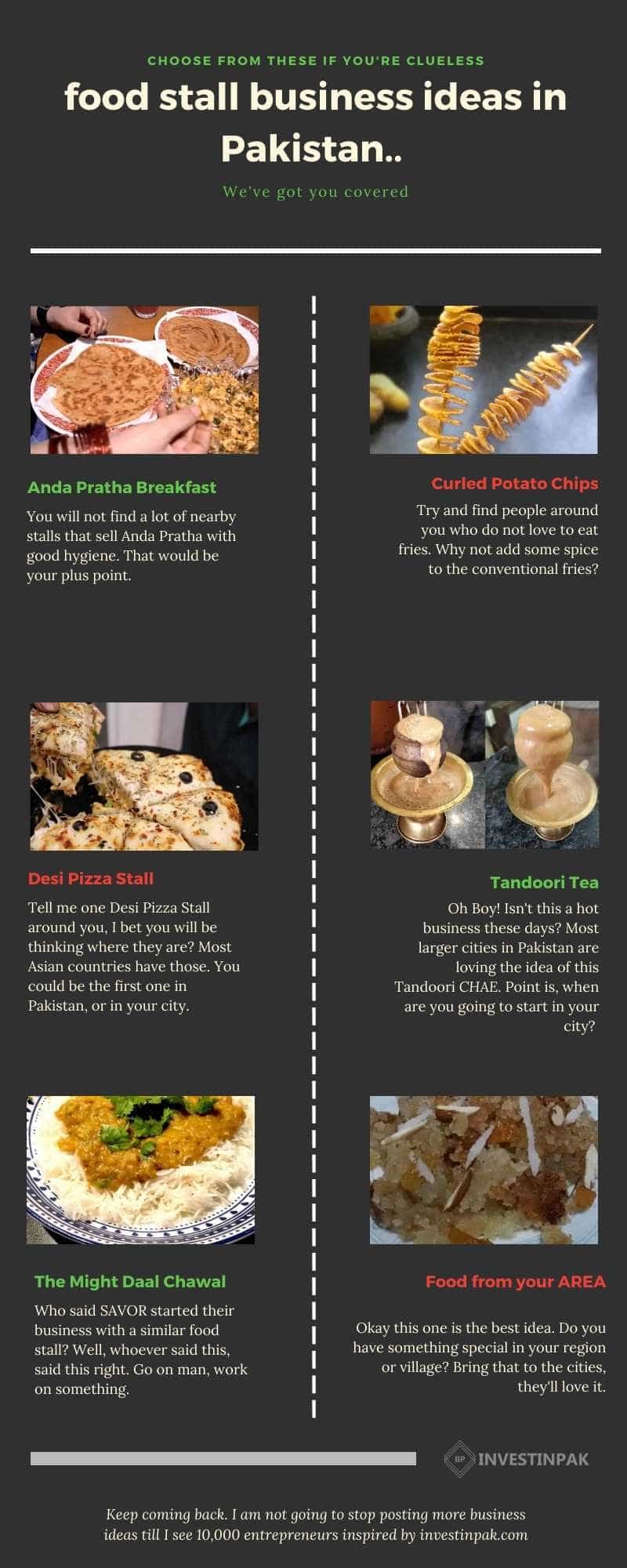 You do not have to be a vendor yourself, you can get someone to sell them for you. One of my buddies started this in Lahore and he is absolutely sure to invest more in this business. These local food stalls could be seen as a startup experiment that require minimum setup budget and time. Once the startup starts generating profits, you can get a shop nearby and start a full-fledge restaurant.
I would advise against starting a restaurant without prior experience. Most people having 5 lakh in their bank tend to start a fast-food restaurant. I have seen dozens of people failing and losing their money. You need to introduce something new and you need to do it small to get some experience.
Requirements: Equipment for spiral potato. Someone who could sell for you.
Education: No education required.
Expertise Level: Entry level.
Time: Mostly in the evenings or at night.
Area: Nearby market, institute or office buildings.
3- Online Business Ideas, like eCommerce
This is where you will require at least some knowledge of computers. You will find a huge list of software houses that are ready to create these eCommerce stores for you. All you need to do is find a product that you can purchase at a wholesale price and then can deliver to the customers at a retail price.
You can also buy running businesses from Flippa and start earning from day 1. You will need extensive knowledge of online businesses to be able to buy a profitable business.
i- If your budget is around 1 lakh then you will be restricted to purchasing products from local markets. Because a good software house will charge at least 50,000PKR to create a sustainable eCommerce store. A bad looking website will only help you lose the rest of your money.
ii- If your budget is around 5 lakh, then you can consider ordering products from Alibaba and then selling them in Pakistan. This is profitable if you can choose a product that can help people. You will need to do extensive research on selecting a product and a vendor from China.
Running an ecommerce business from local products or from Alibaba products is tricky. If you are interested in doing this business, leave your contact details in the comments and I will contact you.
Requirements: A website or a Facebook page, products from local markets or from Alibaba.
Education: Basic computer knowledge. Good knowledge of import incase of Alibaba.
Expertise Level: Mid-level.
Time: Online businesses are 24/7. Call timings can be managed.
Area: The city you are living in, to begin with.
4- Fresh Milk and Related Products Home Delivery
This is one of the most profitable business ideas in Pakistan. The reason behind is that Milk, Butter, Desi Ghee, and Cheese are required in every kitchen. On top of that, we know that 99% of the local vendors are not providing pure milk and related products.
All you need is to establish a Facebook page to start delivering these products. The question is, where do you get them and how much money do you need for this?
Let's evaluate the business in detail.
All of these tools and essentials can be bought within one lakh, but if your budget is near 5 lakh, you can increase the quantity.
A cow or a buffalo, someone who can manage the same. A person who can deliver milk at doorsteps. If you have more than 3 cows or buffaloes, you can start extracting butter, desi ghee or cheese. You will need an expert who has the experience of doing so. These people can easily be hired from your nearby village.
Trust me, anybody who finds out that your products are actually pure will never end doing business with you. On top of that, you will get regular appraisals and customers from these references.
Requirements: Cow or buffalo, a person to manage them, delivery guy.
Education: No education required.
Expertise Level: Mid-level.
Time: First half of the day.
Area: Nearby colonies, Muhallas.
5- Organic Farming Business (preferably Greenhouse)
Greenhouse farming is different from the regular farming we have been witnessing in Pakistan. A greenhouse refers to a space where certain conditions of temperature and humidity are specified for certain plants to grow faster and better. Organic farming is where all plants and fruits are grown without using modern chemicals and Fertilizers.
This is a unique and relatively untapped business idea in Pakistan, you are going into an untapped market.
The reason I am suggesting a greenhouse organic farming business is that the need/demand for organic food is increasing by the day. Have you heard about BioMonde? It is the biggest organic food store in France owned by a Pakistani Entrepreneur.
Similar startups are required in Pakistan as well. These stores can make a hell lot of money if you do it right. The first thing you need is a greenhouse organic farm to grow these products. Once you can create a circle of supply and demand, you can go for your own organic food store in one of Pakistan's largest cities.
Requirements: Land, at least 5 marlas.
Education: No education required.
Expertise Level: Mid-level.
Time: First half of the day.
Area: The target market could be any city near you, the bigger the better.
Business Ideas in Pakistan from 5 lakh to 10 lakh rupees
There are numerous fields wide open if you have a budget of 5 to 10 lakhs and are trying to start a business in Pakistan. All the businesses I have mentioned in the previous tab are doable within this budget as well. There are some businesses that I am going to mention for this particular scale of investment.
6- Themed cafe or coffee shop
As I promised I will be mentioning businesses that a majority of investors can start. A coffee shop or a themed cafe is one of them. We have seen hundreds of coffee shops and cafes failing within our city. Just rule them out. Try this new business model and you will find it very attractive.
i- Nobody is going to buy your coffee or cupcakes at extremely high prices if the environment is not upto the mark. You need to hire a startup interior design group to create a fantastic theme according to the city and market. Maybe, follow a trend. I saw a cafe in Islamabad following the Rikshaw art as the base theme. You might have seen these new DHABA style cafes with decorated trees, bone fire and a music band for the weekends. There is a cafe in Bahria Town Rawalpindi that has LUDDO on every table and it seems to have a lot of people hanging around in the evenings.
ii- So, the point one elaborated on the interior and some lucrative ideas that would attract consumers. Once the environment is set, then you can focus on the services, the menu, the naming convention and finally the prices. If you need related ideas and further elaboration, I am happy to assist you. Just right your query in the comments below.
Requirements: Idea for a themed cafe, service staff, a brilliant chef.
Education: No education required.
Expertise Level: Mid-level.
Time: Mostly in the evenings.
Area: Untapped market or a market with a higher financial scale of customers.
7- Mug printing, T-shirt printing, Pillows and what more
Mainly the printing business. It depends on the budget and handling capacity of orders. If you have ever heard of AliExpress, you can easily order a machine that can print Mugs, Caps, T-Shirts and more. The prices of these machines start from as low as 40,000PKR and they work extremely good.
Once you have ordered the machine, the second step would be finding the stuff that you can print. You can go to the nearest wholesale markets to see unprinted T-shirts, Mugs and related products that your machine can print. Once you have the prices or the products in your range, you are then all set to launch the marketing campaign.
Did I say marketing? Oh yes! this is the most important part. No business can succeed without some sort of marketing. This business, in particular, relies on online marketing the most. You can create a facebook page or even a website and start posting some of the creations from your inventory. If you do not want to spend too much on creating these samples, just hire a graphic designer to design them first and then you can start taking orders.
You can find a good number of these websites and facebook pages that are selling printed products at phenomenal prices. All you'll need is to compete with them in terms of price and quality.
Requirements: Printing Machine, Graphic Designer, Online presence.
Education: No education required.
Expertise Level: Entry level.
Time: Online orders or a shop that works 10:am to 8:pm.
Area: Your city to begin with.
8- Services company
This might be the best thing if you can handle sales. There are numerous options in terms of services. We know how poor most of the individual service providers in Pakistan are. Talk about smaller ones like plumbers, electricians, carpenters, home exterior like whitewash workes, etc. We can also talk about the bigger firms like software or hardware firms, tax consultants, tour and travel consultants, event managers, etc.
Let's list the ones that are possible within the budget you have.
        i- Software Firm
As difficult as it might sound, starting a software house in Pakistan has never been so easy. If you have IT background or can manage those with IT expertise, this is one of the best businesses you can start. Here is what you need to know all about software business.
– Your first priority should be to set up an office at the lowest cost. Then decide if you are going to take orders from local markets or from the international markets. Hire a marketing team accordingly. For the local market, a team of a male and a female would do great. For international markets, a Bidding expert would be helpful.
– Once you have the sales and marketing setup complete, start hiring programmers. Hire for limited technologies first. For example, provide the web development services in the first phase. Make sure the technologies you go for are updated. I would suggest MEAN or MERN stack as these are currently high in demand.
– Do not rely on services. Start a product. It could be an online store or one of the online businesses that we discussed previously. You will need a steady income to grow in the services business.
        ii- Household Services
Talking about the business ideas in Pakistan and not mentioning these services would be an injustice. We really need professional household services company.
Every house and office needs a plumber, an electrician and probably a carpenter. What you can do is create a team of either all of these experts or just start with one of them. Make sure you have a uniform or a badge that suggest the experts are from your company.
You can keep fixed rates for different services or can fix them on an hourly basis. This way, you will be able to present yourself as a professional service provider.
Keep getting regular feedback from all of the clients you serve. Never allow your team to sabotage your business.
        iii- Tax consultancy
Tax recovery is constantly growing in Pakistan. A lot of businesses are registering themselves with the related authorities. Thus, tax consultancy firms are going to be very important in the near future. If you can tap into this market in the early days, you will be able to get the best out of it in the future.
Requirements: Experts according to the related service, an office, and a sales team.
Education: A degree in the relevant field would be great.
Expertise Level: Expert level.
Time: Office timings 9:00am to 6:00pm.
Area: Your city or an open market if you opt for Software House Business.
9- Fish Farming Business Ideas in Pakistan
Fish farming is a highly profitable business idea in Pakistan. The theme is that you grow fish in a pool/farm and once they grow up, you sell them in the markets.
In order to start this business in Pakistan, you will need a pool where you can farm. The size of this pool may depend on the budget you have. You can easily get about 1 Kanal of land in any nearby village for 1 lakh rupees. Then the expense of creating a suitable pool and managing fish could be from 2 to 4 lakh.
Here is a great idea, if you do not want to feed them yourself, you can use nightlights below the water that would attract a lot of insects into the water. The fish would be able to have a nice and fresh dinner. This way, not only that you will save some time, but also some money that you would otherwise spend on buying food from the market.
Requirements: A pool, night lights.
Education: Not required.
Expertise Level: Entry level.
Time: manageable.
Area: Nearby to your pool.
10- Beauty Salon business idea in Pakistan
We see a huge number of local beauty salons in our native cities. We see that most of them are for ladies. There are only a few classy beauty salons for men. Why not introduce a modern beauty salon and introduce some fancy hair cuts? We see these barbers in the US and EU are innovating the industry. Why not follow the footsteps and make a fortune ourselves?
You see, a salon does a lot more than just a hair cut. You can introduce multiple services (keeping quality and innovation intact) and be a brand yourself. I have seen these videos of transformation where some creepy looking people are being transformed into very attractive professionals.
You can start this business yourself and hire certified people to work under your supervision. Make sure you beat your competitors in rates and quality of services.
This may not be a unique business idea in Pakistan itself, however, introducing unique and innovative services would definitely make it highly profitable. You just have to act wisely.
Requirements: A shop or an apartment.
Education: Not required.
Expertise Level: Mid-level.
Time: Preferably morning to evening.
Area: A market with higher traffic and lower competition.
Details of more business ideas in Pakistan Coming Soon
#household goods
#marketing services
Business Ideas in Pakistan from 10 lakh to 20 lakh rupees
This scale of budget suits all the businesses we discussed in the previous tabs. The following businesses I am going to share with you are the ones that are only possible if you have an investment of 5 to 10 lakh rupees. Let's get to the point then.
11- eCommerce with Amazon FBA
We have discussed the eCommerce business previously, right? This one is different. Amazon FBA (Fulfillment by Amazon) is a facility that Amazon provides to the customers. The facility includes maintaining the inventory, delivery and customer services on behalf of the vendors.
You are not familiar with this business idea in Pakistan because of a reason. Selling online on Amazon is not possible if you are a Pakistani citizen. However, FBA allows Pakistanis to use their platform.
The process includes sending all your products to the Amazon FBA office. Your inventory and delivery will be handled by Amazon. Your orders will be served from the USA to the customers in the USA or the target country you choose.
The reason it requires a budget of about 20 lakh is that FBA is an expensive process. It requires an initial 50,000PKR for setting up a company. The fixed monthly fee that starts from 40,000PKR and then the product dispatch that could cost somewhere near 12 to 16 lakh rupees.
If you need help related to this business, write your comments below and I will send you a complete roadmap.
12- Education Sector Business Ideas in Pakistan
You will have to think twice if this business suits you. I have seen a hell lot of talented youngsters who can make a difference in the education sector. If you are highly qualified, talented in a special way, have vision and exposure or are familiar with some modern techniques of teaching. You should start a business in the education sector. This is one of the safest business ideas in Pakistan.
Let me enlist the types and kinds of business ideas in the education sector.
i- Start a school. Not an ordinary one, present something special. Either hire someone with experience or do the research of modern-day schooling yourself. I have a bunch of friends with their kids who are schooled in Dubai. These schools were run by Indian administrators. Enmity aside, I was fairly impressed by the methods they used to teach their kids. These kids from class 5 were way sharper and knowledgeable than our FSs students. If you need further details about this business, just write in the comments and I will guide you.
ii- If not a school, you can start an academy. I am not talking about a regular FSs or CSS academy. These academies are already there in the market and most of them are not producing any results either. I am talking about something different. An academy that teaches skills. The skills that lead to a job in the market. This could be a better and more practical version of Digiskills. I am not against this academy or similar ones. But I will be honest, they are not teaching the kids anything. Most kids from these academies are as blank as those without their certificates.
iii- Your budget is not enough to start a university. It is, however, enough to start a technical institute. Unlike an academy, an institute could be affiliated with a university. This adds authenticity to your business. Start low and slow, start providing courses that get your students jobs. Focus on practical work and invest on the labs. You can beat Pakistan's top institutes if you have the right approach. It would not be much difficult as the state of affairs in current institutes are messy.
13- Ridehaling with Uber or Careem
This is the business if you want to play safe and get a steady income of around 1 lack plus. Your budget of about 20 lacs is enough to enroll around 5 Mini cars or about 3 Go category cars in Careem or in Uber. One car would save an average of around 40 thousand PKR for you. This amount I mentioned is the actual profit that you get after paying your driver/captain and paying for the rest of the taxes, fuel and maintenance.
The hazards in this business are that these ride-hailing companies are available only in the major cities, though Careem has expanded to smaller cities as well but there is a chance that your city does not have this service. In this case, you have two options. Either move into another city or start a ride-hailing service of your own. If you have a small town or a small city, you can get things working pretty quickly. If you need help and guidance in starting your own ride-hailing business in Pakistan (a particular city) then you can write your email or contact in the comments below. I will recommend some of the experts in this field.
14- Stock Exchange Business Idea
If you are thinking that the complexity of businesses is increasing with the budget. You are actually right. There is no point in investing 30 lacs for a homemade food delivery business. If you have more, you need to do more to start a business. Since this budget is enough to hire professionals, you do not need to worry about the skills.
The stock exchange might be an alien concept for many. Very few people tend to invest in the stock market and the major reason is that they do not understand this business.
If you are one of those who do not understand, you do not have to ignore this idea. There are agents that can invest on your behalf and can take care of the profits as well. All you would have to do is establish some PR and goodwill in the stock exchange and find someone who is good at investing.
Read about the shares, the latest spikes, and drops in the market, the parameters that affect the stock market and so on. This is just so you can find the right agent to invest your amount for you. If you go to the agents without basic knowledge, you might not get the profits you expected.
The graph below shows how good the Pakistan Stock Exchange performed in the year 2019. The current government is doing all it can to stabilize the country's economy. This might be a good time to invest in the stock market before the shares go out of proportion and you are no longer capable of buying the expensive ones.
15- News Portal with Youtube and Web
This could be a novel idea for most of the readers. If you have not been looking at these growing YouTube channels in Pakistan, you would be surprised to see how much they actually earn on YouTube.
I have worked with a few news portals and YouTube channels to know that this business works pretty well every time. We have to take the basic steps with some caution though.
The idea is to create a website and a YouTube channel. Hire some writers for the website and a reporter or two for the YouTube channel. Start writing about the local news in your city and conduct some interesting interviews for your YouTube channels.
We have seen multiple TV channels that actually started their business with a website and a YouTube channel. Have you seen Urdupoint or DailyPakistan?
This business requires an initial setup cost of about 2 to 3 lakh and then a maintenance/running cost of about 1 lakh a month. You would be able to start earning in about 3 to 6 months depending on the quality of your work.
If you are interested in this business, write your name and email in the comments below, I have some fantastic people in my circle who can help you grow.
More business ideas in Pakistan coming soon
#agriculture – growing profitable items
#crypto currency exchange
#Import export
#garments
Business Ideas in Pakistan from 30 lakh to 50 lakh rupees
Most people with this scale of investment are looking for something safe yet innovative. I can understand the feeling and can tell you that most innovative businesses are not safe. You have to hit and try as long as you tie the right knot.
15- Animation Studio
This is a billion-dollar business idea if you get it right. Have you watched cartoons in your childhood? What's your favorite character? Tom, Sigma, Doremon, Motu Patlu, Commander SafeGuard, Super Man and a lot of these characters stormed the internet. If you can create an interesting character, send in some interesting videos to the internet using YouTube, you could be making millions in the first few months.
Animation studio creates animated movies or short clips. You do not have to create a complete movie in the first go. You need to work on a character first and then start creating short clips for YouTube.
An idea for such clips could be taken from any inspirational character from your childhood. Have you read "Imran Series"? It has enough content that could be highly additive for any age group. What about "Umro Ayar"? You will find dozens of these characters that most of us loved in our childhood. Millions of people would love to watch these stories online.
Perhaps, this would be a favor for the country as well. Promoting our culture and cultural characters will not only bring you a lot of respect, but you will also be rich very quickly.
If you are thinking about why you need about 5 million for this business. Just read the requirements below.
Requirements: At least 4 high tech desktop PCs that can process these heavy animations. A content writer, a director, and animation experts.
Education: If you have the amount, you can find the experts. Basic education is enough.
Expertise Level: Managerial skills and expertise required.
Time: Any office hours that suit you and your employees.
Area: Pakistan in the first phase, global in the second phase.
16- Model Institute in Parallel with Services Company
Oh boy! Do you have about 5 million rupees? Skip everything and start this business in Pakistan. This is by far the most profitable business idea in Pakistan if you like working offline.
Let's focus on the steps and the core idea here.
i- Establish an institute on modern grounds and teach students the technical skills that would get them a job
ii- Hire local experts who can teach them the practical side of these courses
iii- Run a services company in parallel, use your own trained students to work for you on a commission basis or on a salary.
Let me make it easier for you. Just go through these infographics describing this profitable business idea in Pakistan.
17- Transport Business
You might have heard a lot of negative things about the transport business in Pakistan. Indeed, most of those are correct. The reason is the unprofessional and unethical behavior of most transport vendors. We can't take the common Pakistani out of the equation either.
I am of the opinion that any business can be good or bad, it is a matter of Who, How and When.
In the current times, when covid-19 has struck us all very hard. Conventional transport business might not do the trick. Here is how
Conventional transport business includes a very well put up bus service between two cities. A cargo truck that takes goods between the two cities. A car on demand that takes private calls for intercity or intracity tours.
Nonconventional transport business in Pakistan would be the way Careem, Uber, Airlift, Swyl, and inDrive are running.
What do I recommend?
We have seen how complaints against careem and uber are growing by the day. They are letting it lose because there is no competitor. This is where the opportunity lies. You can start a car on-demand service from one city, in the beginning, to reduce operation costs and then gradually increase the geographical locations.
Requirements:
Apps: This could cost you somewhere between 1 million PKR to 3 million PKR depending on which software house you work with.
Offices: Your office location should be in a commercial area within the city
Marketing: You should have at least 2 million PKR for the marketing
More business ideas in Pakistan coming soon
# Construction
# Import Export
# Electricity Generation
# Modern Machinery for Agriculture
[box type="note" align="" class="" width="100%"]
Interesting Posts
Small Business Ideas in Pakistan – 10000 to 1 lakh rupees
Top Visa Free Countries for Pakistan in 2020
PayPal account in Pakistan – Definitive Guide to make and verify PayPal account
Digital Pakistan: Is Pakistan Taking off?
How to Apply Online for Kamyab Jawan Program – Tips and Guidelines
[/box]