Digital Power of Attorney Pakistan is the latest online facility that PM Imran Khan has offered to the expats. This article covers all the necessary steps you need to complete the application. Make sure that you are well aware of the requirements and terms before going through the process.
I am a firm believer of the fact that overseas Pakistani community has a very important role in Pakistan's economy. I can see that this government has done the most to facilitate the long ignored expats. Digital Power of Attorney being the latest.
I am sure a lot of you are looking for a guide to get going with this new Digital Power of Attorney thing. I am here to help. Just go through these steps and you will be good to go.
Also Read: Best Apps to Buy a Virtual Phone Number
Step 1 – Account Creation
First things first, you need to get an account with NADRA. Here is the link for that — Create an Account with NADRA
When you do that, just follow the guide below. POA stands for Online Power of Attorney. Keep in mind that the system will verify your email and phone numbers before registering you as a genuine applicant.
Also Read: Business Ideas in Pakistan 2022 – Complete Roadmap
Step 2 – Apply for 'Online / Digital Power of Attorney Pakistan'
This step will take information from the applicant that is necessary to generate a digital power of attorney. Note down the following documents.
– Two Witnesses and details of the Attorney. It will require you to provide individual's picture and CNIC
– A scanned copy of the power of attorney
– Scanned copies of the supporting documents that are required as per the PoA, an example would be a copy of the affidavit.
Step 3 – Biometric Verification
This is an important step in acquiring digital power of attorney. You will need to provide biometric verification of yourself and any individual involved in the agreement. You will be required to download the biometric form for atleast the following candidates
– 1x Biometric Verification Form for Applicant(s).
– 2x Biometric Verification Form for the Witnesses.
Finally, after filling and adding the biometric verification, you will be asked to upload a scanned copy on NADRA's dashboard.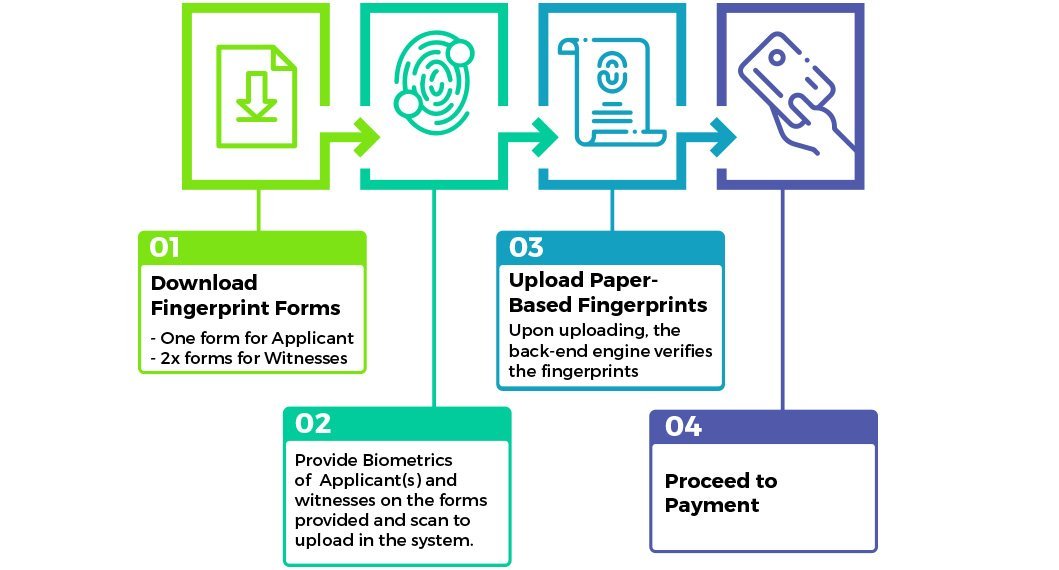 Step 4 – Payment Processing
You will be required to pay the processing fee. Good thing is that you can make the payment online for Digital Power of Attorney. You need to make sure that the biometric verification step is successful within the application limit of 5 attempts, otherwise, you will have to visit the nearest Pakistani Mission.
You also need to visit the same if you do not have a valid copy of NICOP/POC/CNIC/Pakistani Passport, otherwise, you will have to visit your nearest Pakistani Visit to discuss your particular situation.
Step 5 – Video Interview
You will be provided with a link along with the scheduled date and time for a video interview. This step is included in acquiring the digital power of attorney Pakistan to ensure a swift yet reliable process. You will be talking to the Consular Officer in this step, afterwards, the decision will be made based on how the interview goes and if you were able to provide all necessary information.
Step 6 – The Final Consent for Digital Power of Attorney
One you are approved by the Consular Officer, you will receive an email to acquire your final consent. Once you go forward with the consent, you will receive the Power of Attorney papers that you can download. Finally, dispatch these papers to the Attorney in Pakistan who will then take it to the MoFA after verification.
It is important to keep in mind that you will have 15 days after receipt of this email requiring the final consent. If you do not provide a consent within 15 days, the application will be rejected.
This is it, your Digital Power of Attorney Pakistan is now ready to be used anywhere in Pakistan. I hope that this information helped you. In which case, do share it with your friends and family abroad. If you still face any problems or need further guidance, you can write in the comments below.