Law is a very noble profession and Lahore is enriched with the best law colleges that provide quality education. We are here with the list of the top ten best law colleges in Lahore. The education gained from these colleges will provide a solid base for the students.
Currently, we have listed institutes that offer LLB 3 years' degree program after graduation (BA) and 5 years with BA-LLB. A student who completed his graduation can take admission in 3 years LLB program while a student who just passed intermediate can take admission in 5 years program (BA-LLB). In Pakistan, numerous universities and colleges are offering law education from LLB to Ph.D. and some of the universities introduced a semester system.
Moreover, in this Nobel and profitable profession, a successful lawyer can earn a handsome income and live a wealthy life. There are many colleges in Lahore that are offering BA LLB Courses. But for your ease and guidance, we have compiled a list of the Top Ten Best Law Colleges in Lahore on the basis of quality education and standard.
Punjab Law College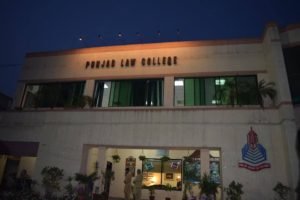 Punjab Law College is one of the best law colleges in Lahore aiming to provide quality education.
This institute holds the honor of being the best and first-ever private law college in Lahore.
This prestigious institute was established in the year 1987 and is a project of Punjab Groups.
Punjab Groups chairman Mian Amir's aim is to provide quality education to the young generation.
He tried hard to make this educational institute to the top in legal and law studies.
The talented and experienced faculty has been hired to achieve the aim to be the best law college with quality education.
The faculty leaves no stone unturned and creates a quality earning environment with missionary zeal.
Students are provided complete guidelines and education with a complete focus on the main concepts that Islam teaches.
Contact Details:
Address: 14-C New Muslim Town Noon Avenue, Lahore.
Phone No. 042-35866814
Pakistan College of Law
Pakistan College of Law is another best law college established in 1996.
This is a private and non-profit organization striving to provide the best quality law education to its students.
They have experienced and inspiring faculty that train their students to learn effective skills of advocacy and enable them to make the legal analysis.
Pakistan College of Law is continuously making progress through obtaining top positions in university results and the student has also performed in International forums with distinction.
This institute provides the best facilities as well as an environment that increases a feeling of pride and a sense of achievement for their students which will stay with them in the future.
Contact Details:
Address:  46 Tipu Block, Babar Street New Garden Town.
Phone No. 042-35831801.
Email: [email protected]
Quaid-e-Azam Law College – Top Ten Best Law Colleges in Lahore
Quaid-e-Azam Law College is among the best top ten law colleges in Lahore, established in 1987.
This law college retains its high standards of quality in legal education with the mission of 'authorized education with some change'.
They facilitate their students with morning as well as evening classes so people who are doing any job can easily continue their law education and manage studies with a job.
This is the best place for law students also this is the first college that is included in Punjab's private sector.
Contact Details:
Address: 10 G Model Town, Lahore.
Email ID [email protected]
Phone No. 042-111-000-752
University Law College, University of Punjab
University Law college Punjab University is also known as ULC is the best and oldest legal institute at the government level.
This prestigious institute has been the epitome of judicial heritage from where the finest legal minds of the subcontinent were graduated.
At first, there was no examination policy and later in 1873 entry test was introduced, as Punjab University's rule was redesigned and the Supreme Court of Pakistan ordered to hold exams.
ULC is considered to be one of the best law colleges where hundreds of students come to get law schooling.
University Law college also offers several diplomas like labor laws, intellectual property laws, taxation laws, etc.
The quality of education and knowledge a student gets here will make them analyze things very keenly.
Also, enable them to confidently communicate and negotiate with people from every walk of life.
Contact Details:
Address: Quaid-e-Azam Campus Punjab University, Lahore.
Phone No. 042-99231275-76
Email: [email protected]
National Law College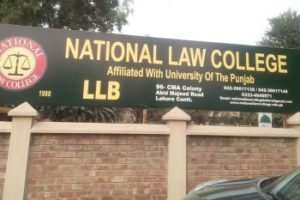 National Law College is one of the best leading law colleges in Lahore and a pioneer of Law colleges in the respective field.
This institute set the tradition of Intra college and national-level competitions and now looking forward to making it to the International level.
They are providing the quality education of international standards under the supervision of highly qualified and proficient faculty heads.
They offer 3 years LLB program with multiple learning stages. Most deserving students can get scholarships through the financial assistance program introduced by the college.
The other best thing about this institute is that they introduce the online program for those who are doing any kind of job or not allowed to leave the house.
Contact Details     
Address: 96- CMA Colony, Abid Majeed Road, Lahore Cantt, Lahore
Phone No. 042-36617138-9
Email: [email protected]
University College Lahore
University College Lahore is known for teaching International programs since 1994 and is considered one of the top best law colleges in Lahore.
This institute is associated with multiple International Law institutions like the London School of Economics (LSE), Queen Mary, the School of Oriental and African Studies(SOAS), and University College London.
They offer LLB programs to their students in a dynamic learning environment under the command of the most dedicated faculty.
Apart from hard training, the college also facilitates their students with sports activities, seminars, and other outdoor study-related activities.
Students who graduated from UCL will get an International degree which is the first step to their bright future.
UCL also conducts the entry test of the Bar Council which is the much-needed step to work in Pakistan.
Contact Details:
Address: University College Lahore, Raiwind Rd, Lahore
Phone No. +92 305 5388775, +92 333 4792170
Email: [email protected]
LUMS Law School (SAHSOL) – Top Ten Best Law Colleges in Lahore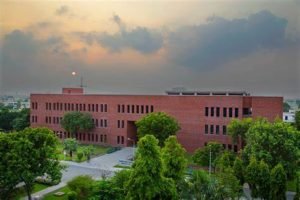 LUMS is one of the famous institutes of the country. In 2013 LUMS announced the opening of Law School in the name of Shaikh Ahmad Hassan (SAHSOL).
They are offering five years BA-LLB program, In the first two years, students are bound to complete academic prerequisites just to get legal training.
Then in the next phase of 3 years, the students will be trained in a demanding environment and get their specialization and exposure to the major law subjects.
Their mission is to be the best Law school in Pakistan and also internationally acknowledged as the best and leading institute in the field of research of Law.
This institute is working hard to provide the best and quality education to the students and make them compatible with religion, culture, and social norms.
They prepare their students in the modern environment, treat them as future leaders, encourage and appreciate them through publications and research work.
Contact Details
Address: Opposite Sector U, DHA, Lahore.
Phone No. 042-35608000
City Law College
City Law college is non –profit organization run by the private sector. This law college is best known for securing positions among different competitions.
Their mission is to achieve the aim of success by providing worth law education to their students.
They hired the best and experienced faculty that provide students the quality law education along with other facilities.
Students are allowed to meet different scholars around the world.
They can discuss and take advice from members of the bar and superior court judges who are considered to be the best in the law field.
This is important to mention here that the prominent students of this prestigious law college secured top positions in University examinations.
Contact Details
Address: 124-Allama Iqbal Road, Lahore
Phone No. 0320-4320500
The Institute of Legal Studies
The Institute of Legal studies is among the list of top ten best Law colleges in Lahore. This institute is funded by SA Qaiser Memorial Trust and offering admissions in both 3 years and 5 years programs.
This Law college is very much famous because it has well-experienced intellectual and well-trained foreign qualified faculty delivering their best to the students.
This is the ideal place where students can transform their ideas into reality under the supervision of talented and proficient teachers.
They provide a professional caring and friendly environment to their students to make them the best intellectual of society.
Contact Details
Address: 15- Aziz Avenue, Canal Bank Gulberg-V, Lahore
Phone No. 042-35711001
Email: [email protected]
GC University – Top Ten Best Law Colleges in Lahore
Government College Lahore is renamed GC University in 2002 when this college raised to the status of a university.
The GC University is 155 years old and without any doubt, this university is a blend of old traditions and modern education standards.
In 2004 for the very first time law subject was introduced.
GC university offers Law courses that cover additional information regarding the legal system of Pakistan as well as other countries.
University's motto is 'Courage to Know' and students are bound to benefit from the most prestigious, intellectual, and cultural environment of the institute.
The Law department of the GC university has its own society named 'The Law Society' that organized different events, society meetings, and curricular activities.
Contact Details
Address: Defence Road, Lahore
Phone No. +92 (0)42 111-865-865, +92 (0)42 35322501, +92 (0)42 35321761
Email: [email protected]
Also Read: 
Top 10 Schools in Lahore – Genuine List
Top Ten Schools in Lahore – Genuine List
Top Ten Restaurants in Lahore – Let the taste prevail
New York Times picks Lahore as one of the top places to visit in 2021
Top Ten Software Houses in Lahore – Genuine List
Top Ten Software Houses in Lahore – Genuine List