Lahore is the city of gardens and one of the most loved cities in the country also known as the heart of Pakistan.  Hospitals are the symbol of hope of life and health, and often seem to be centers where most miracles happen so, this city is also a home for some of the most well-reputed and well-established hospitals with topmost healthcare facilities. I have figured a list of the top ten hospitals in Lahore, let's have a look.
These health facilities with technological advancement, packed with complete medical facilities and well-experienced healthcare professionals are equally competent in the private as well as the public sector of health in Lahore.
You have rightly come to our recommendations as we have compiled a list of the top ten best hospitals in Lahore for your ease, find out all details for the top ten hospitals in Lahore below.
Doctors Hospital – Top Ten Hospitals in Lahore
Doctors Hospital is one of the best and most advanced hospitals in Lahore, established in 2000 by a group of remarkably experienced international doctors, their vision is to provide top-notch healthcare and medical facilities to people of the country.
This medical center is fully equipped with advanced technology like dialysis machines, 250 beds, more than a hundred best and exceptionally skilled doctors, round-the-clock medical emergency. Moreover, angioplasty, angiography, stent replacement, and much more comprehensive services are provided here.
Doctors hospital is visited by qualified foreign doctors mostly from the US and UK this is also the reason that this medical center is ranked among the top ten Hospitals in Lahore
Location: 152- G/1, Canal Bank Road, Johar Town, Lahore
Phone Number: +92 42 35302701-14
Shaikh Zayed Hospital
Shaikh Zayed Hospital Associated with Shaikh Khalifa Bin Zayed Medical & Dental College which is working as a teaching hospital.
This is a private hospital and provides a wide variety of best services. They have foreign qualified and trained medical staff
Furthermore, they offer liver and kidney transplants with advanced technology as well as a urology and gynecology department among many others.
The thing which is prominent and famous for this hospital is that they have a neat and clean and best hygienic environment with the best and highly certified team of professionals, they offer 24 hours services to their patients.
Location: University Avenue, New Muslim Town, Lahore, Pakistan
Phone Number: +92 42 35865731-37
National Hospital and Medical Center – Top Ten Hospitals in Lahore
National Hospital and Medical Center is one of the most well-reputed hospitals in Lahore. Their skin and hair treatments are among the most popular in the National hospital.
This medical center is providing the best ultra-modern health facilities and is equipped with the most advanced technology with luxurious rooms and offers facilities like hair transplant, skin whitening, acne and scar treatment, mole removal, Advance technology of Botox injection, and laser skin resurfacing. Their staff is always active and 24-hour services are provided at National Hospital.
You can book your appointment anytime for consultation with the best skin specialist.
Location: 132/3, Block L, DHA Lahore
Phone Number: +92 42 111 171 819
Shaukat Khanum Memorial Cancer Hospital
Shaukat Khanum Memorial Cancer Hospital and Research Centre (SKMCH&RC) is a charitable organization established under the leadership of the great Imran Khan so, SKMCH&RC does not need further introduction. This hospital is well known for providing free treatment to needy patients of all types and stages of cancer.
As it's a charitable hospital so donations of people help this hospital to meet the expenses of poor and needy people
This is undoubtedly the best cancer hospital in Pakistan today that sets the highest standards. Hospital is fully equipped with the latest technology with a complete range of clinical, and diagnostics services with highly trained health professionals.
It's the country's largest cancer hospital and largest radiation oncology center, so many people are diagnosed and treated free here and SKMCH full time dealing with emergency cases
Location 7A Block R-3 M.A. Johar Town, Lahore.
Phone Number :+ 92-42-3590-5000
Children's Hospital Lahore
Children's Hospital and Institute of Child Health is one of the best and top hospitals in Lahore when it comes to children's health. It was established in1995 and comes under the Punjab Health Department. It provides a vast variety of services to both inpatient and outpatient. This medical center also provides training to a very large number of health professionals in a variety of different disciplines and is also involved in conducting research projects.
Another big achievement of Children's hospital is that this institute specially and very keenly observes and covers the Allied Health Sciences and prominent for the school of Nursing.
Location: Ferozepur Road, Lahore, Punjab
Phone Number: 92 42 99230901-23
Also Read: Top ten Restaurants in Lahore
Ammar Medical Complex – Top Ten Hospitals in Lahore
Ammar hospital is one of the leading hospitals in Lahore and that's why it is on the list of our top ten hospitals in Lahore. This hospital is providing services to its patients in all main areas like ENT, Cardiology Neurosurgery, Orthopedic Surgery, Gynecological and Obstetrical, pulmonology, with an extremely modern post-operative recovery unit and well-developed ICU.
The prominent thing about this hospital is that they have a very caring staff and highly skilled doctors for almost every specialty.
Location: 8 Haroon Shah Scheme, Main Jail Road Lahore.
Phone Number : +92-302-8428007, +92-42-35754916-19.
Jinnah Hospital Lahore
As the name 'Jinnah' shows this hospital is named after Muhammad Ali Jinnah, founded in 1994.
Jinnah Hospital is one of the most advanced hospitals that offer both inpatient and outpatient care services. Their staff is highly skilled and experienced, providing the best healthcare facilities with accurate, reliable, and prompt services.
Jinnah Hospital is affiliated with UHS, CPSP, and Allama Iqbal Medical College.
They deal with thousands of patients in a day and they strive to deliver quality healthcare of International standards to their patients.
Their incredible facilities with international standards include 25 Outpatient consultation rooms, Endoscopy Room and Day Surgery Unit, full-fledged Emergency Department, ICU, CCU, Delivery suites, The Diagnostic Centre with advanced laboratory, and advanced equipment like Mammography, open MRI, CT Scan, 4D Ultrasound, and Fluoroscopy.
Location: Faisal Town, Usmani Road, Lahore
Phone Number: +92-42-99231400-23
Hameed Latif Hospital
Hameed Latif Hospital is primarily known for the quality of care they provide founded in the year 1994. This is the leading private hospital that provides a wide range of healthcare facilities, their aim to provide competent and high-quality emergency medical care to their patients with very accommodating staff.
Hospital is consists of 250 beds and also offers undergraduate training and that training includes services like gynecology, oncology, neology, obstetrics, and anesthesia.
Address: 14 New Abu Bakar Block, New Garden Town, Garden Town
Phone Number:  +92 (42) 111-000-043 : +92 (42)-35862623
Bahria International Hospital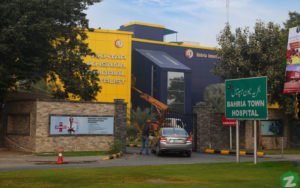 Bahria Town International Hospital Lahore is as luxurious and comfortable just as the housing society itself known for its comfort and class.  This is a 100 bedded luxurious hospital with two operation theaters, 8 ICUs and 6 bedded CCU  with high-end technology and equipment.
It provides quality care services in the presence of highly skilled medical professionals, staff with the best neat and clean hygienic environment.
This hospital has the specialist of almost all major departments such as Cardiac Surgery, Cardiology, Dermatology, Gynecology, ENT, Pediatrics Dental Surgery, Nephrology, Urology, Dialysis Centre, and whatnot to be included in the list of top ten hospitals in Lahore city. They have  24 hours working emergency department as well.
Location: Takbeer Block, Sector-b, Bahria Town, Lahore
Phone Number: +92 042 – 111 296 297 +92 042 – 353 401 35-7
Also Read: Top ten Schools in Lahore
Fatima Memorial Hospital
Fatima Memorial Hospital is a general hospital for children and women and is affiliated with Fatima Jinnah Medical University. This hospital is comprising of 500 beds with advanced medical care facilities and highly qualified health professionals.
The good thing about this hospital is that this hospital runs on cross-subsidization where those patients who can afford treatments pay their treatment charges and those charges are used for treating the underprivileged.
This city deserves to be called the heart of Pakistan, though, whatever you talk about either its food, picnic points, or healthcare system Lahore never disappoints you. This city is full of well-equipped, well-organized, and advanced health care facilities.
Location: Shadman, Lahore
Phone Number: +92 42-111-555-600
Related Articles for You
Business Ideas in Pakistan 2021: Complete Roadmap