40 Deaths with COVID-19 in a Day
The death toll from COVID-19 in Pakistan rose to 535 on Tuesday and recorded its highest death toll of 40 patients just in a day.
According to the National Command and Operation Centre, the total confirmed cases of COVID-19 in the country have become 23,274  after the confirmation of 1,049 new cases.
Out of the total cases, Punjab has reported 8,693, similarly, Sindh reported 8,640cases, 3,499 cases in Khyber Pakhtunkhwa.
Baluchistan reported 1,495, Islamabad Capital Territory 485, Gilgit-Baltistan recorded 372 cases and Azad Kashmir's total cases are 76.
So far, 6,290 patients of coronavirus have successfully recovered from this deadly virus.
However, 15233 infected patients are under the treatment in several hospitals and quarantine centers in the country.

Khyber Pakhtunkhwa death tool is high
Unfortunately, in KP the number of people dying from the novel coronavirus has now increased to 194.
During the past 24 hours, Punjab reported 20 more deaths after which the total for the province climbed to 156 deaths.
Sindh in the last 24 hours reported nine deaths and climbed to 148 total deaths in the province.
Baluchistan reported 21 all total deaths till now and ICT reported 4 and Gilgit-Baltistan 3.
Fortunately, no death is reported from Azad Kashmir.
From all-new deaths, 14 out of 40 patients were on a ventilator while others are not that much serious, and this situation indicating that more and more patients without ventilators are dying.
This pattern was not seen earlier.
Meanwhile, the federal government had decided to ease the lockdown in the perspective of restriction.
Prime Minister and his all cabinet members including the federal ministers, the premier's advisers, and special assistants will donate their one month's salary to PM's Corona Relief Fund to help poor people in this hour of need.
The decision came during a meeting of the cabinet presided over by Prime Minister Imran Khan in Islamabad.
KPK COVID-19 Stats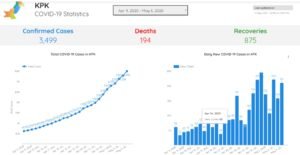 Total deaths in KP
Punjab COVID-19 Stats
Total deaths in Punjab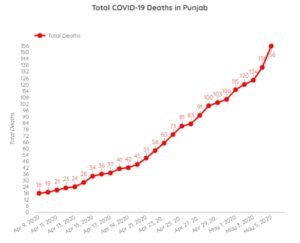 Sindh COVID-19 Stats
Total deaths in Sindh
Balochistan COVID-19 Stats
Total deaths in Balochistan
Islamabad COVID-19 Stats
Total deaths in Islamabad
AJK COVID-19 Stats
Fortunately, no death is recorded until now in AJK.
Also Read: UAE Has Developed Stem Therapy to Treat COVID-19 Patients Successfully
40 deaths with COVID-19 in the past 24 hours it's indeed the deadliest day for Pakistan.
However, the virus situation in the country is still stable as compare to Europe, US, and other countries.