Pakistan is known for its beautiful places and warm welcoming people. There are so many beautiful and breathtaking sights in Karachi. Here I am sharing the list of Top Ten Best Places to Visit in Karachi.
Every city of Pakistan is famous for some reason and Karachi is known to be the city of lights, the largest and most popular city in Pakistan.
Karachi is the business hub and economic backbone of Pakistan because most of the businesses belong to this city.
Karachi is also famous for its nightlife that's why it is known as 'City of Lights'. People around the country and around the world come to visit this beautiful city.
Karachi has been a great attraction to the tourist for the diversity of beautiful and enchanting places that it has to offer.
Let's check out these top ten best places to visit in Karachi.
Mohatta palace
If you are interested in history then Mohatta palace is the place for you to visit.
It is a museum built in 1927 by Shivratan Chandraratan Mohatta and designed by Agha Ahmed Hussain.
Shivratan Chandraratan Mohatta was a Hindu Marwari businessman who lived there for more than two decades before the partition.
This place is close to the seaside and surrounded by trees. This beautiful Rajasthani-Style building is built with local yellow stone and pink stones which is famous in Jaipur and Jodhpur, India.
In 1994 Mohtarma Fatima Jinnah left the Flag Staff House and moved into this house and remained here until she died.
Later in 1995, this place is converted into a museum. Now, this is the busiest place used as a museum as well as an art gallery.
Location: 7 Hatim Alvi Road, Clifton, Karachi
Clifton Beach
If you visit Karachi and never get a chance to visit sea view aka Clifton Beach, then your trip to Karachi is incomplete.
Clifton Beach is one of the most visited places in Karachi, located on the Arabian Sea.
It is open 24/7 for the general public and beach lovers. This beach holds a charm that is worth a watch.
This beautiful sea view is now home to many local's leisure activities like camel and horse riding, buggy rides, dirt-bikes, and a lot more.
There is a park nearby that is also the reason that Seaview is always crowded.
Location: Saddar Town, Karachi
Port Grand Karachi
Port Grand is one of the most famous places in Karachi and that's the reason it is on the list of top ten best places to visit in Karachi.
This place is the most beautiful addition to Karachi.
It is a one-kilometer bridge with food, drinks, and shopping stalls and also known as an entertainment hub, located on Napier Mole Bridge.
Port Grand was opened for public in 2011 and since then it's the most tempting and irresistible because of dining, shopping, food, cultural, and coastal recreational activities.
It is a very affordable and great place to try different cuisines. You can enjoy your meal while viewing the sun as it sets into the ocean.
There are 11 food points providing Pakistani and foreign cuisines. We recommend you to visit this beautiful place and try some real Pakistani food.
Location: Port Grand, West Wharf Karachi
Mazar-e-Quaid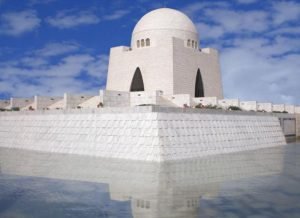 Mazaar-e- Quaid is also called Jinnah Mausoleum. It is basically the resting place of the Father of the Nation Quaid-e-Azam Muhammad Ali Jinnah.
It is located in Jamshed Quarter, Numaysh Karachi and It is famous and among the top ten best places to visit in Karachi by tourists as well as by locals.
The renowned spot was built in the late 1960s with white marbles and structured bt Engineer Yahya Merchant
It is also the resting place for Fatima Jinnah and Liaquat Ali Kahn along with Quaid-e-Azam.
It is the best picnic spot for family and friends. People take time from their busy routine and come and enjoy with family in the evening.
We recommend you visit this beautiful place once in your life.
Location:  Shahrah-Qaideen, Karachi.
Charna Island Karachi
Charna Island is also known as Churna Island, it a small island 7km away from the Arabian Sea to Karachi.
This is the most beautiful place in Karachi. People most often visit this place for refreshment and enjoyment.
Charna is famous for Scuba Diving, Cliff jumping, Jet skiing, underwater photography, snorkeling, camping, and boating.
People from all around the world are attracted to this eye-catching and beautiful island.
This island is very beautiful and among the list of top ten best places to visit in Karachi. People must have to visit this place once in life.
Location: near Mubarak Goth, Kimari Town in Karachi
Do Darya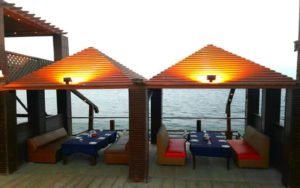 The list of the top ten best places to visit in Karachi would be incomplete without Do Darya.
Do Darya is the most famous and most visited place in Karachi and this beautiful paradise is built right along the seashore and surrounded by sea from both sides.
This is a food street of Karachi and very popular among local food lovers. Food spots remain open late at night.
You will find a comfortable seating arrangement for your family and friends at Do Darya with tempting cuisines and gorgeous views.
Some of the best restaurants fo Do Darya includes Kolachi, Sajjad Restaurant, Charcol BBQ and Grill.
From desi food to continental you will find a wide variety of food here, for a memorable experience and fine dining this food street is a must-visit place.
Location: Sea View, DHA Phase 8, Karachi
The Chaukhandi Tombs

The Chaukhandi Tombs are the ancient graveyard which spread over around 2 square miles of the land.
This ancient place is also recognized as a UNESCO World Heritage Site.
It is not known that when these houses tombs of the ancestors of the local tribe were built but it is believed that this necropolis is estimated to range between 16th to 18th century BC.
They are located around 30km east of Karachi and the known as the graveyard of the Jokhio tribe.
The style and architecture of these graves are the most attention-grabbing feature of this place. This incredible sight of history and architecture is a must-visit place.
Location: Port Qasim Road, Karachi
National Museum Of Pakistan
National Museum Of Pakistan is another must-visit place in Karachi established in 1960.
This museum has the most beautiful range of art consists of 11 galleries.
You will find here the old artifacts from the Indus Valley Civilization as well as modern times artifacts.
This museum basically has models that depict all the facts and figures of Pakistani culture.
It also portrays the paintings to relics, sculptures, and many rare manuscripts of the Quran.
If you visit this place you will witness the most diverse range of art and also see a huge collection of old coins.
Location: Shahrah-e-Kamel Ataturk, Burns Garden، Karachi
Masjid-e-Tooba
Masjid e Toobah also known locally as Gol Masjid due to its large domed roof. It was built in DHA in the year 1969.
This Gol Masjid is one of the city's major attractions. It is the largest single dome mosque in the world and the 18th largest mosque that can hold a congregation of up to 5,000 people in a hall.
The white marble dome has a diameter of 70 meters and is balanced on a low surrounding wall but has no central pillars.
This is the most beautiful mosque in the country and the interesting thing about this mosque is that if someone speaks at one end of the white marbled dome, it can be heard from the other end.
This white marbled mosque has an eye-catching infrastructure which made him in the list of top ten best places to visit in Karachi.
Location: Old Korangi Road, Sabir SRE Karachi Conntonment Karachi
Empress Market Karachi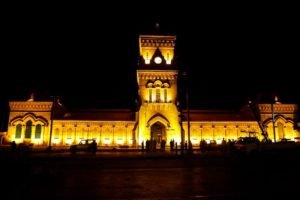 Empress Market was built in 1889. It is a colorful but chaotic market that sells everything and anything.
This market was named to celebrate Queen Victoria. It is one of the oldest markets in Karachi.
You will find everything here from groceries, stationery, pets, household items, and textile to live animals and many more things.
We recommend you to visit this place early in the morning to avoid the rush.
Location: Saddar Bazar Quarters, Karachi,
Some Related Links For You
Top Ten Best Hospitals in Karachi- Genuine List
Top Ten Best Places to Visit in Lahore
Top Ten Best Places to Visit in Islamabad
Business Ideas in Pakistan 2020: Complete Roadmap
Tourism in Pakistan – The World Appreciates