Remember the time when we would proudly say that Pakistani dramas are the best in the world? Most of the dramas today are centered around Indian gifted topics of SAAS BAHU quarrels. Well, this list of best Pakistani dramas of all time will show you the better side of it. Or shall I say, these are the actual Pakistani dramas?
The recent hit of Mere Pas Tum Ho enticed me to look deeper into the drama industry of Pakistan. I found the topic quite appealing and realized that we have come a long way. Rarely do we see dramas with such appropriateness.
The list of best Pakistani dramas of all time
It is indeed going to be the toughest task to actually rate them as I go along. So, I decided to name the best Pakistani dramas of all time instead of giving them ratings. Will you excuse me for this?
Ankahi – Released in 1982
I remember a scene from Ankahi that went viral a few days ago. A popular Indian movie copied this scene from Pakistani drama serial Ankahi.
The drama is about the struggles of a middle-class girl SANA, who despite being clumsy, knows and performs her responsibilities.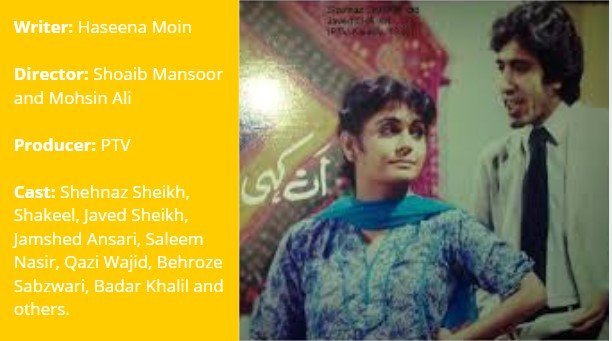 Tanhaiyan – Released in 1985
Old is gold as they say. Tanhaiyan fits that quote perfectly. This could be rated as one of the best Pakistani dramas of all time. Particularly when it comes to family dramas. We don't have many family shows these days, do we? I mean the stories today are to break the families apart. This one, however, was a special family drama serial with an impeccable story.
Dhoop Kinare – 1987
If you're a doctor, you'll love this drama. If you're not, you'll like it even more. The drama revolved around the lives of medical professionals. That too in a very practical manner. Doctors today could learn a thing or two from the story. One of the best Pakistani dramas of all time.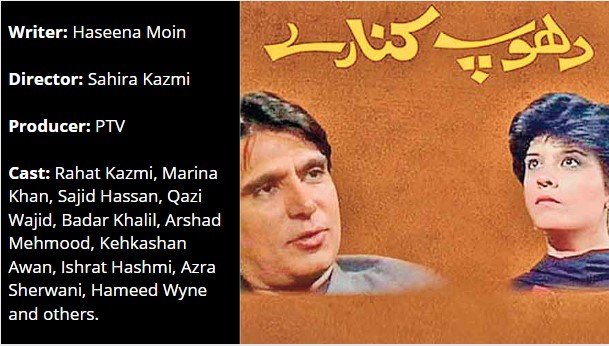 Marvi – Released in 1993
Feudal mindset, in particular, when a girl leaves her village to get higher education. It was, by all means, an eye-opener for the viewers.
Know Mahnoor Baloch? Well, she is still young and beautiful. Just saying!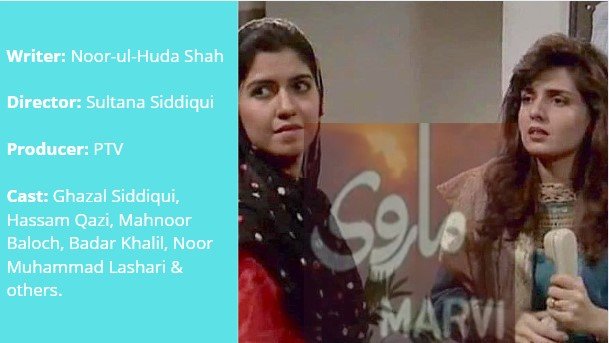 Aanch – Released in 1993
Think what would be the content of a drama, today, if it was about a stepmother and her stepchildren? You're right. It would memic world war 3. Aanch is a story of the same. Just written and directed rather rationally. One of the best Pakistani dramas of all time.
Dhuwan – Released in 1994
Don't tell me you were not waiting to see this drama listed. If you were not, you probably are not a fan of Pakistani dramas. No one can skip listing this drama when talking about the best Pakistani dramas of all time.
Also Watch: Kurulus Osman Season 2 in Urdu Subtitles – Watch Kurulus Osman All Episodes in Urdu
Alpha Bravo Charlie – Released in 1998
ISPR's first production of a drama serial. It was about some friends in army. The drama does not require any depositions to be placed among the best Pakistani drams. The story was cordial and the people loved it. They still do.
Meri Zaat Zara e Benishan – Released in 2009
Probably revived Pakistani dramas. After a long time, a drama came that really made people pay attention to Pakistani serials again.
The story is about a girl who faces accusations against her character. Her husband had to choose between her and his family. Shall I spoil all the fun? No, I won't. Go! find the drama and watch it yourself. Thank me later.
Zindagi Gulzar Hai – Released in 2009
Writer: Umera Ahmed
Directed by: Sultana Siddique
Producer: Hum Television network (Moomal Productions)
Cast: Fawad Khan, Sanam Saeed, Javed Shaikh, Samina Pirzada, Sheheryar Munawar, Mahreen Syed and other
Life is full of bloom and boon as the title describes "Zindagi Gulzar hai". It's a novel based drama written by our very owned Umera Ahmed The story is all about gender biases and different socio-economic classes and hardships of a middle-class girl Kashaf who earns a reputed position with her hard work. Along with the many twists and turns a beautiful love story of two people, opposite in thoughts and class starts and eventually ends up on marrying each other. Someone once said True love always finds a way and this story makes you believe in that.
Humsafar – Released in 2011
Writer: Farhat Ishtiaq
Directed By: Sarmad Khoosat
Producer: Hum Television network (Moomal Productions)
Cast: Fawad Khan, Mahira Khan, Noor-ul-Hassan, Behroz Sabzwari, Atiqa Odho, and Naveen Waqar.
Humsafar is you can say a revival of drama industry It's a real masterpiece to watch which received overwhelmingly positive response and gained immense popularity and large audience internationally.
Humsafar is based on Urdu romantic novel written by Farhat Ishtiaq. The story revolves around the two main protagonists Ashar and Khirad and the trials and problems of a married couple. The story seemed to be a very simple and ideal love story in the start but the sudden change in the middle of the series did all the wonders and make this the most-watched drama in Pakistan.
Khuda Aur Muhabbat – Released in 2011
Writer: Hashim Nadeem
Director: Anjum Shehzad
Production: Javeria Saud
Cast : Imran Abbas, Sadia Khan, Ahmed Jehanzeb, Fazila Qazi, Firdous Jamal.
With Strong story and content, Khuda Aur Muhabbat is the unique and classic story that revolves around love, Religion, Tradition, society, values, and beliefs in life. A story of a rich modern boy who falls in love with a middle-class girl and goes against his family and left all his wealth, comforts, family & luxurious life in order to pursue his love.
I must say Khuda Aur Mohabbat is the ruler coaster of Emotion, love, and hardships with amazing dialogues and meaningful conversations.
Pyaray Afzal – Released in 2013
Written by: Khalil-ur-Rehman Qamar
Director: Nadeem Baig
Production: Six Sigma Entertainment
Cast: Hamza Ali Abbasi, Ayeza Khan, Sana Javed, Sohai Ali Abro, Saba Hameed, Firdous Jamal Shehryar Zaidi
Females' stories are dominant in the drama industry, isn't it true? But Pyary Afzal is all about a young carefree man who is in love with a woman, but can't express it later caught up with the wrong people and becomes an infamous gangster.
This drama personally has a great influence in my life as I learned a lesson that the most important thing in life is the love you give to and get from others is priceless, wealth and status are nothing in front of that love.
When it comes to script and dialogue no one can beat Khalil ur Rehman Qamar and that makes Pyary afzal a Hit.
Yes, Pyary Afzal's last episode was screened in cinemas across Pakistan and comes first in the list of TV serials to hit the big screen
Sang-e-Marmar – Released in 2016
Writer: Mustafa Afridi
Director: Saife Hasan
Production: Momina Duraid
Cast: Noman Ijaz, Sania Saeed, Mikal Zulfiqar, Kubra Khan, Qazi Wajid, Omair Rana, and others
Sang-e-Mar Mar is a story of honor killing and Vanni – (using your daughter or sister to wash off your sins) This drama is full of deep and dark secrets of the stereotypical  Pakhtun's culture who still thinks honor killing is an honorable act.
Sang-e-Mar Mar truly represents the evil of society.
Udaari – Released in 2016
Writer:  Farhat Ishtiaq
Director: Mohammed Ehteshamuddin.
Production: Momina Duraid with Kashf Foundation.
Cast: Ahsan Khan, Bushra Ansari, Hina Altaf, Samiya Mumtaz, Farhan Saeed, Urwa Hocane
Udaari is the thought-provoking drama of child abuse and extramarital affair which raises some very important and real issues of society.
Udaari gained so much popularity and was talk of the town due to the subject and the commendable performances
Ab Dekh Khuda Kya Karta Hai – Released in 2018
Writer: Syed Ameer Ali Shah Hussaini
Director: Syed Ali Raza Usama
Production: Babar Javed
Cast: Danish Taimoor, Sanam Chaudhry, Yashma Gill and Humayun Ashraf as the main leads.
We all heard these lines "what goes around comes around" this is what this drama is all about with social evils that prevail in our society.
A worth watching serial with the story of a rich and fraudulent businessman who uses his power to trap young girls for his pleasure and manipulate them.
Cheekh – Released in 2019
Writer: Zanjabeel Asim Shah
Director: Badar Mehmood
Production: Big Bang Entertainment.
Cast:  Bilal Abbas Khan, Saba Qamar, Aijaz Aslam ,Azekah Daniel, Maira Khan and Emmad Irfani.
Cheekh is basically a crime thriller drama with a pretty sound script. A story of trials and tribulations of a woman Mannat who fights for justice on the brutal killing of her close friend and How she raised her voice against her family and go against his brother in law a who was a  ruthless cold-blooded psychopath murderer and rapist and knows how to manipulate any situation.
Ishq Zahe Naseeb – Released in 2019
Writer: Hashim Nadeem
Director: Farooq Rind.
Production: MD Productions and Moomal Entertainment
Cast: Sonia Hussain, Zahid Ahmad, Sami Khan, Zarnish, Yumna Zaidi and others
Ishaq Zahe Naseeb is a mystery drama that comes with a totally different concept of a split personality disorder where a person experiences two or more personalities and that character is brilliantly played by Zahid Ahmed.
References: All thanks to Google and WikiPedia for storing vital information, credible resources have been used from these two portals.
[box type="note" align="alignleft" class="" width="100%"]
Interesting Posts to Read
What happened to these three tourists in Gilgit Baltistan? You'll be shocked
Fun Time With Abeera Khan – This Fantastic Girl is Breaking All Grounds in Lahore
Story of A Girl Gang Raped in F9 Park Islamabad | Investinpak
[/box]