Coronavirus in Pakistan: The outbreak is now at an alarming state. The virus threat has reached Pakistan and the authorities have to take steps to contain it.
Read Details: Confirmed Coronavirus Cases in Pakistan 'COVID-19'
Wuhan is the capital city of China's Hubei province. The city is home to infamous coronavirus.
[highlight color="red"]We believe that coronavirus has killed at least 2362 people and infected more than 199,400 as of Tuesday 17th March.[/highlight]
[highlight color="red"]I would enlist 3 things that you can do to prevent from coronavirus. The list has been issued by the CDC[/highlight]
It is indeed an alarming situation. Coronavirus usually takes up to 14 days before the symptoms appear and the affected person is a potential career for all that period. Which makes containing the virus pretty challenging. Every infected person is a potential career of the virus.
Look at this map to quantify the number of coronavirus cases, when it spread in the past, throughout the world.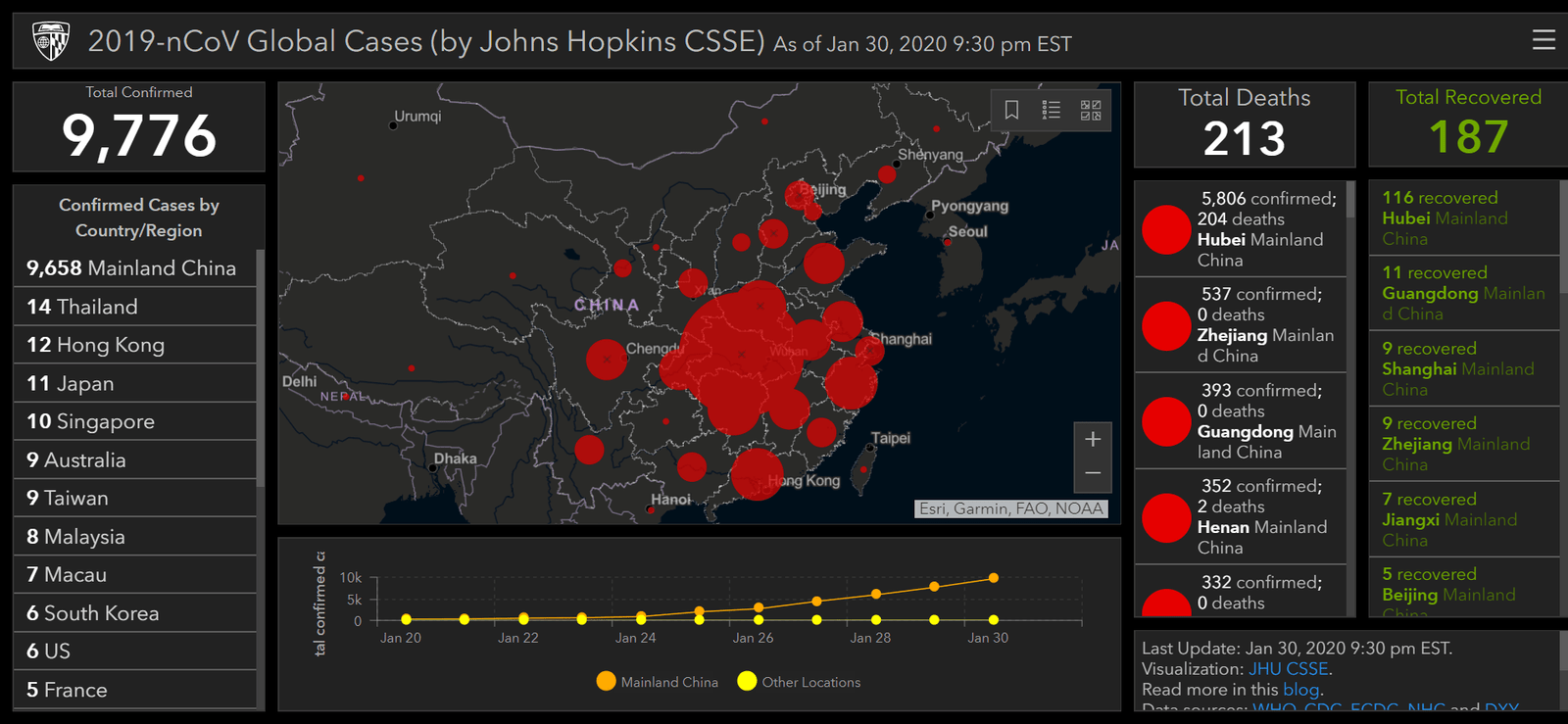 You see that coronavirus wasn't spread in Pakistan in its previous outbreak. The country has had the first few victims this year. That too in a province that has one of the most ill-managed health department. I just worry about the coronavirus spreading in Pakistan, throughout. If it does, it will be a disaster, God forbid.
Also Read: US Confirms Military Plane Crash in Ghazni, Afghanistan
The following map shows the number of possible coronavirus cases throughout China. Focusing on Wuhan's recent outbreak. You can see the numbers have increased a great deal. This means that the threat is bigger this time.
Most countries halted flight operations with China after the virus outbreak. Pakistan did the same.
Most countries in the EU and the Middle East have now halted flights from all over the world.
The Airport authorities in Pakistan also conduct screening tests of all the passengers upon arrival from anywhere in the world.
The growing number of coronavirus cases in Pakistan suggest that the screening is not effective at all. It could be one of the two possibilities now.
i- Screening conducted at the airport is not sufficient or accurate at all
ii- Shahzaib might be suffering from something other than coronavirus
If it is the first case, we should be worried, really worried.
Do these 3 things to keep you from getting coronavirus in Pakistan.
Avoid close contact with people you believe are sick, do not contact people if you're sick. This way, the virus could be contained.
Facial masks are only helpful if you're sick. Avoid touching your eyes, nose or mouth. This is how the germs spread. The facial mask can prevent the virus from spreading while you sneeze or cough. If you are not sick, the mask will not be helpful.
Use soap to wash your hands for at least 20 seconds. Wash surfaces that might have germs.
I will be posting live updated related to coronavirus in Pakistan on this page. I just hope that there is only good news to share.
[box type="note" align="" class="" width="100%"]
Live Updates about Coronavirus in Pakistan
Confirmed Coronavirus Cases in Pakistan 'COVID-19'
Engro Corp Karachi Office Closed as Employee Gets Infected with COVID-19
[/box]
FAQs about Coronavirus in Pakistan
What is the number of confirmed coronavirus cases in Pakistan?
The number of coronavirus cases in Pakistan is growing quickly. It has reached 1053 as of today.
Can I get coronavirus by touching the sick people?
If they have the virus, you can get it by touching, staying close when they cough or sneeze, or by touching their body liquids like blood. Stay away and stay safe.
What to do if someone in the family shows symptoms of Coronavirus in Pakistan?
Put them in an isolated room and provide them with a mask. Contact 1122 or the nearest medical facility and ask them to take the patient to a hospital. Follow preventive measures and get tested for the virus. Get everyone in the family tested.
Is coronavirus treatable?
Not right now. Doctors are very close to identifying a vaccine for the virus. They are hopeful that the treatment will be formulated very soon.
Is Pakistan equipped for Coronavirus challenge?
The health minister issued a statement that Pakistan is equipped to fight Coronavirus. However, we saw Shahzaib's case and that raises eyebrows.